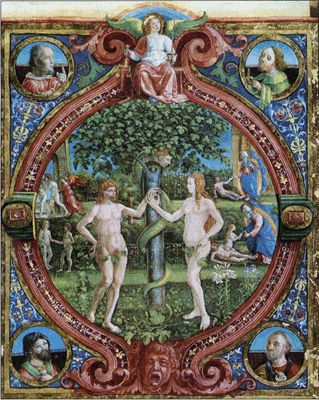 Through the years I've had various agnostic and atheist friends and acquaintances ask me the same question: How can an all loving God allow evil to exist?
I believe that on a deep level we all question why there is evil.
Every single person who is reading this can think of tons of examples of horrific human suffering that has happened in history, that is currently happening, and that has even touched their own, or the life of someone they know & care about. In the face of this there is something within each of us that cries out in anguish - it's not right, it's not fair - I don't want it to be this way.
The explanation I find in the Christian Bible, and the answer I always give, is that we live in a fallen world. When the first humans chose to disobey/sin, the garden of Eden was lost forever to us all. Each person born from that point on had a sinful nature.
Someone I know just pointed out today that she remembered when this truth hit home for her - it was when her son was very young. She'd asked her son if he'd taken the cookies which he was not supposed to have from the jar, to which he'd replied no - even though his face bore all the traces of the cookies he'd consumed. She pointed out that he was so young that she knew his every move and that they didn't lie in her home; yet here was her son, all on his own, lying. She explained that was when it really hit her that we do not have to teach our children to do wrong, it comes naturally, it's human nature.
The entire Bible explains how sin separates us from God, and what God's done through sending Himself, His son, Jesus, to provide a way back to Himself.
Whenever I share this with my atheist or agnostic friends and acquaintances, invariably someone will bring up the point that if God is all knowing, then He must have known that Adam and Eve would choose to disobey and bring sin into the world and then evil would exist and people would suffer - so why'd He make it this way instead of some other, seemingly better, way.
I can not really say why God let us have free will instead of making us robots. But I do know that having a relationship with someone who had no choice but to love me, would be different than having a relationship with someone who chose to love me.
About a month ago I read a really interesting post from Matt over at the Church of No People where he gave his thoughts on
The Problem of Evil
.
Today I heard a fascinating lecture where the speaker turned the question around in a way I'd never considered previously. He asked that if someone believes that this world is all there is, and that humans are just a more highly evolved species, then, given this world view where does evil come from?
Or, if one really believes in survival of the fittest making a stronger species to carry on, why is it evil for the strong to prey on the weak? Isn't that just natural selection? Where does the judgment, or moral imperative, that some things are evil come from?
The German philosopher Immanuel Kant thought the fact that we as humans even have moral notions, to be proof that there is more going on than only the physical world we see. That there must be some kind of higher power.
What about you, why do you think evil exists? Do you think the fact that we have moral notions is evidence of a moral god?